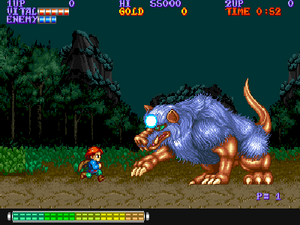 In addition to a NES game, Capcom also released a Willow arcade game in 1989. Loosely based on the film of the same name, the game has six stages, some where Willow Ufgood plays his part, others where Madmartigan plays his, and one of the stages where either character is selectable. Although much closer to the movie than the NES version, the arcade Willow still took many liberties with the plot: to name a few, Willow is able to throw magical fireballs, and he has to fight a number of intermediary boss monsters that include a giant mutated Death Dog and a flamedragon-throwing sorcerer.
Ad blocker interference detected!
Wikia is a free-to-use site that makes money from advertising. We have a modified experience for viewers using ad blockers

Wikia is not accessible if you've made further modifications. Remove the custom ad blocker rule(s) and the page will load as expected.